controlling population size is the best way to ensuring women's empowerment -- Meenakshi Lekhi
(2017 World Women's Empowerment Summit Inaugurated on 11 July 2017)
New Delhi, 11 July 2017
Inaugurating the 2017 World Women's Empowerment Summit organized by the Women's Agency for Generating Employment (WAGE) at India International Centre, New Delhi, the Member of Parliament (Lok Sabha), Smt. Meenakshi Lekhi stressed the need for controlling population explosion with a view to ensuring the empowerment and overall integrated development of women. She said that women from time immemorial in our country have been fully empowered. They get their power and energy from within explaining the role of society in women's empowerment she added that the best society is one which respects women.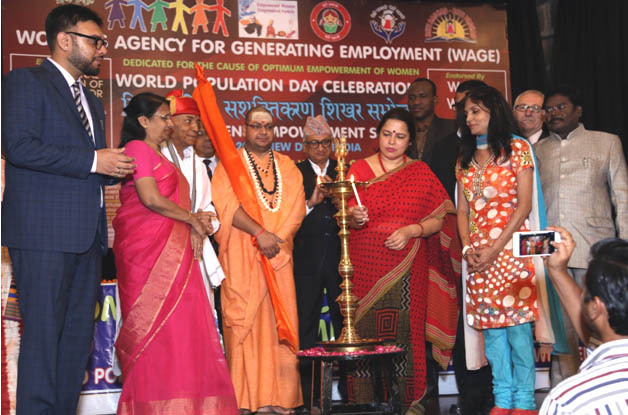 Hon'ble Mrs. Meenakshi Lekhi lighting the lamp in the presence of
His Holiness Swami Onkaranand Saraswati, Shankaracharya of
Prayag Peet, Dr. P R Trivedi, Dr. Tanuja Trivedi and
Dr. Utkarsh Sharma to mark the inauguration of the
World Women's Empowerment Summit on 11 July 2017.

Highlighting the importance of population education, she thanked the Women's Agency for Generating Employment (WAGE) for organizing this Summit on the auspicious occasion of the United Nations World Population Day. She called upon the delegates including the Ambassadors, High Commissioners, Diplomats, Bureaucrats, Technocrats, Chancellors, Vice Chancellors, Principals, NGO Activists and Students to ensure that nobody produces more than two children.
Discussing the population scenario in our country, she predicted that by 2024, India will lead the world in population size which is very much alarming. She cited the examples of Bangladesh as well as Sri Lanka where the Government and the Public have joined hands for having a stable population. She hoped that the Indian Citizenry and the Indian Government come together for controlling and maintaining the population size for ensuring the optimal and sustainable growth.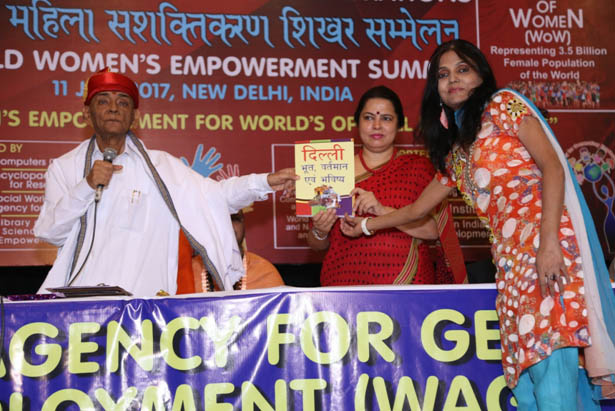 Hon'ble Mrs. Meenakshi Lekhi releasing the Book titled
"Delhi : Past, Present and Future" on 11 July 2017.
Elaborating the difference between empowerment and disempowerment, she said that producing more children is a matter of disempowering the women. She advised the men to be responsible persons for taking care of the mass movement for mitigating the disastrous effects of population growth.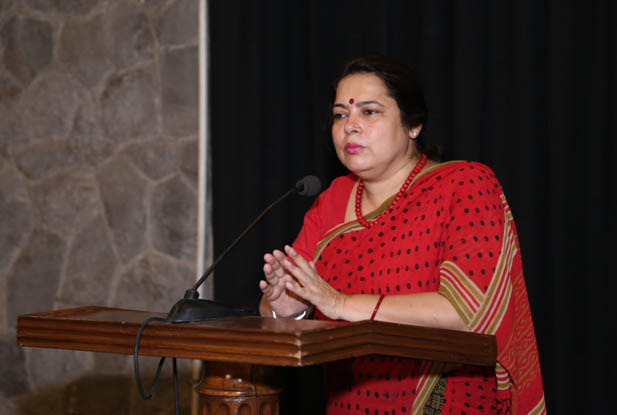 Hon'ble Mrs. Meenakshi Lekhi delivering her inaugural speech
on Women's Empowerment on the occasion of the World
Population Day Celebrations at New Delhi on 11 July 2017.
Discussing the benefits of Aadhar, she advocated for its wider use and that all benefits for those who have and will have only two children or one child should be linked with Aadhar and that those having more children should be debarred from all subsidies and benefits for enabling them to have attitudinal and behavioural change at the earliest.
Finally she asked all the female population to participate in the developmental plans including disaster education and management, clean India campaign, environmental protection, ecological tourism and ecofeminism.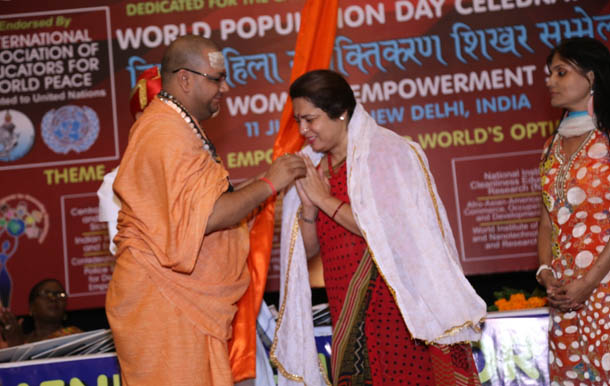 Hon'ble Mrs. Meenakshi Lekhi being felicitated by His Holiness
Swami Onkaranand Saraswati, Shankaracharya of Prayag Peeth
at India International Centre, New Delhi on 11 July during the
Women's Empowerment Summit organized by Dr. Tanuja Trivedi.
At the outfits the Director of WAGE Dr. Tanuja Trivedi welcomed the delegates attending the Summit and advised them to get associated with the Women's Agency for Generating Employment (WAGE) through a networking approach and for optimizing the available resources available for women's developmental programmes.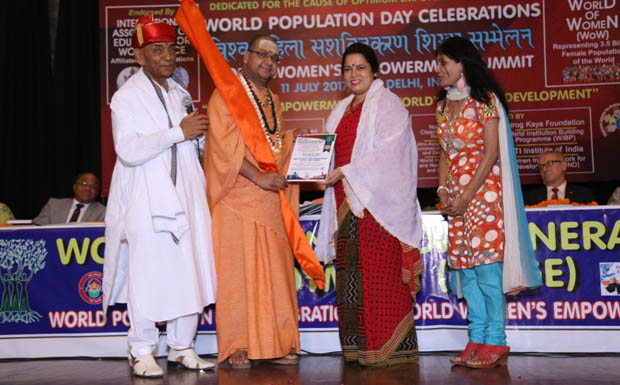 Hon'ble Mrs. Meenakshi Lekhi receiving the Best Woman
Parliamentarian of the Year Award jointly instituted by
the International Association of Educators for World Peace
(Affiliated to ECOSOC, UN) and WAGE on 11 July 2017.
While blessing and patronizing the delegates, the Shankaracharya of Prayag Peeth, His Holiness Swami Onkaranand Saraswati asked the men and women to joined hands to ensure that there is no crime or violence against women. He wished that ethical and valued added education be introduced in all the schools, colleges and universities for having a depolluted and cleaner mind of the young boys and girls.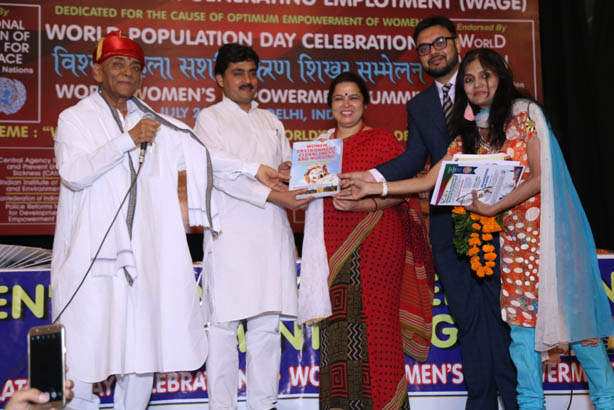 Hon'ble Mrs. Meenakshi Lekhi releasing the Book "Women,
Environment, Cleanliness and Nursing" in the presence of
Dr. P R Trivedi, Mr. Manish K. Shekhar, Dr. Utkarsh Sharma
and Dr. Tanuja Trivedi on 11 July 2017 at New Delhi.
While delivering his Presidential Speech, the President and Plenipotentiary of the Confederation of Indian Univesities (CIU) and the Founder Chancellor of the Indira Gandhi Technological and Medical Sciences University, Arunachal Pradesh and The Global Open University Nagaland, Dr. Priya Ranjan Trivedi announced the publication of the 50 Volume World Encyclopaedia of Women's Empowerment.
More than 15 Books were released by the Chief Guest Smt. Meenakshi Lekhi and the Chancellors, Vice Chancellors, Ambassadors and High Commissioners. Important among them were "Delhi : Past, Present and Future", "Women, Cleanliness, Environment and Nursing" besides other publications on women's health, education, rights, duties, empowerment etc.
Others who presented their expert views included H.E. Deep Kumar Upadhyay, Ambassador of Nepal, H.E. Mr. Jozef Drofenik, Ambassador of the Republic of Slovenia, H.E. Augusto Montiel, Ambassador of Bolivarian Republic of Venezuela, Mr. Boureima Souleymane, Embassy of the Republic of Niger, Mr. Samwill Dandagui, Embassy of Benin, H.E Mrs. Elizabeth Paula Napeyok, High Commissioner of Uganda, H.E. Ambassador Mrs. Queen Imaria Worlu, High Commissioner of Nigeria.
Many individuals and organizations were felicitated for their outstanding contribution in the area of Women's Empowerment.
The Women's Agency for Generating Employment (WAGE) is the only organization in the world dedicated for ensuring trained women to finally become job givers rather than job seekers.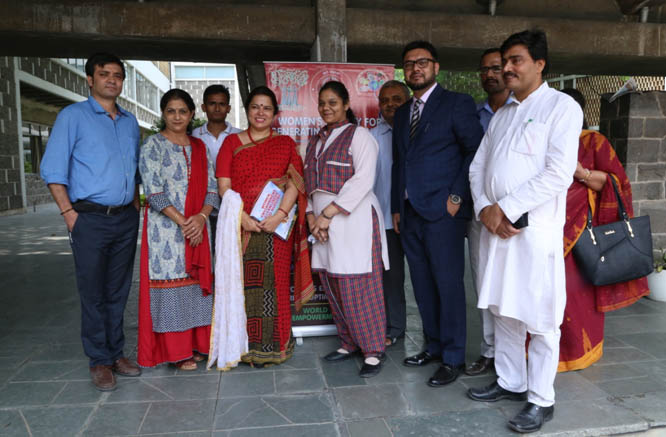 Hon'ble Mrs. Meenakshi Lekhi with the Team Members of
the Women's Agency for Generating Employment (WAGE)
on the occasion of the World Women's Empowerment
Summit on 11 July 2017 at New Delhi.
Other activities of WAGE is to design and implement action programmes for women having social, cultural, environmental, scientific, economic and positive contents for the optimum development of female population.
WAGE has fraternal relationship with the World of Women (WoW), an International Charity jointly sponsored by the International Association of Educators for World Peace (Affiliated to United Nations, ECOSOC, DPI, UNESCO, UNICEF), Lama Gangchen World Peace Foundation (Affiliated to DPI, United Nations) and the World Institution Building Programme (WIBP).
-----------------------------------------------------------------------------------------------------------------------------
---
World women's empowerment summit to be held at new delhi on 11 july 2017
New Delhi, 28 April 2017
Dr. Tanuja Trivedi, Director, Women's Agency for Generating Employment (WAGE), an International Organization dedicated for the cause of Women's Empowerment, while addressing the Press and Media, announced that the World Women's Empowerment Summit 2017 will be held at India International Centre, 40 Lodi Estate, New Delhi on the occasion of the World Women's Empowerment Day coinciding with the World Population Day on 11th July 2017.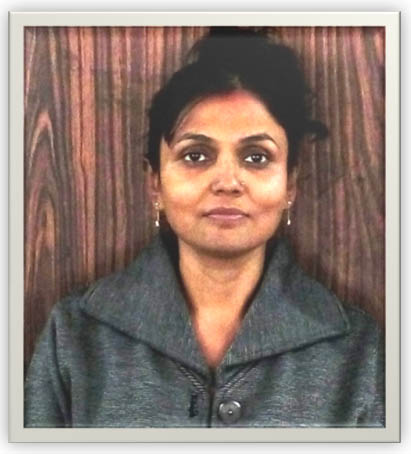 Dr. Tanuja Trivedi, Director, WAGE
She further added that all the 875+ Universities of India have been invited to get benefited by participating in this important Summit. The 50 Volume World Encyclopaedia of Women's Development will also be presented to the selected Colleges and Universities contemplating to research on women's issues, she further added.
Explaining about the Women's Empowerment she said that womens' empowerment has become a significant topic of discussion in development and economics. It can also point to approaches regarding other trivialized genders in a particular political or social context.
Women's economic empowerment refers to the ability for women to enjoy their rights to control and benefit from resources, assets, income and their own time, as well as the ability to manage risk and improve their economic status and wellbeing.
While often interchangeably used, the more comprehensive concept of gender empowerment refers to people of any gender, stressing the distinction between biological sex and gender as a role. It thereby also refers to other marginalized genders in a particular political or social context.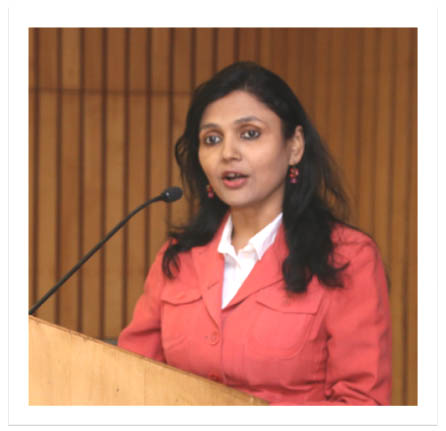 Dr. Tanuja Trivedi participating in the Press Conference
announcing the World Women's Empowerment Day.
Discussing about the methodology for enabling women to get empowered, she explained that land rights offer a key way to economically empower women, giving them the confidence they need to tackle gender inequalities. Often, women in developing nations are legally restricted from their land on the sole basis of gender. Having a right to their land gives women a sort of bargaining power that they wouldn't normally have; in turn, they gain the ability to assert themselves in various aspects of their life, both in and outside of the home.
Another way to provide women empowerment is to allocate responsibilities to them that normally belong to men. When women have economic empowerment, it is a way for others to see them as equal members of society. Through this, they achieve more self-respect and confidence by their contributions to their communities. Simply including women as a part of a community can have sweeping positive effects.
Women were given a place in a forest conservation group. Not only did this drive up the efficiency of the group, but the women gained incredible self-esteem while others, including men, viewed them with more respect. Participation, which can be seen and gained in a variety of ways, has been argued to be the most beneficial form of gender empowerment. Political participation, be it the ability to vote and voice opinions, or the ability to run for office with a fair chance of being elected, plays a huge role in the empowerment of women.
However, participation is not limited to the realm of politics. It can include participation in the household, in schools, and the ability to make choices for oneself. It can be said that this latter participation need to be achieved before one can move onto broader political participation. When women have the agency to do what they want, a higher equality between men and women is established. It is argued that microcredit also offers a way to provide empowerment for women. Governments, organizations, and individuals have caught hold of the lure of microfinance. They hope that lending money and credit allows women to function in business and society, which in turn empowers them to do more in their communities.
One of the primary goals in the foundation of microfinance was women empowerment. Loans with low interest rates are given to women in developing communities in hopes that they can start a small business and provide for their families. It should be said, however, that the success and efficiency of microcredit and microloans is controversial and constantly debated.
Further examining the use of internet as a tool to empower women, Dr. Tanuja Trivedi observed that the growing access of the web in the late 20th century has allowed women to empower themselves by using various tools on the Internet. With the introduction of the World Wide Web, women have begun to use social networking sites like Facebook and Twitter for online activism. Through online activism, women are able to empower themselves by organizing campaigns and voicing their opinions for equality rights without feeling oppressed by members of society. For example, on May 29, 2013, an online campaign started by 100 female advocates forced the leading social networking website, Facebook, to take down various pages that spread hatred about women.
In recent years, blogging has also become a powerful tool for the educational empowerment of women. According to a study done by the University of California, Los Angeles, medical patients who read and write about their disease are often in a much happier mood and more knowledgeable than those who do not. By reading others' experiences, patients can better educate themselves and apply strategies that their fellow bloggers suggest.
With the easy accessibility and affordability of e-learning (electronic learning), women can now study from the comfort of their homes. By empowering themselves educationally through new technologies like e-learning, women are also learning new skills that will come in handy in today's advancing globalized world.
Getting worried about the barriers to women's empowerment, she noted that many of the barriers to women's empowerment and equity lie ingrained in cultural norms. Many women feel these pressures, while others have become accustomed to being treated inferior to men. Even if men, Legislators, NGOs, etc. are aware of the benefits women's empowerment and participation can have, many are scared of disrupting the status quo and continue to let societal norms get in the way of development.
Research shows that the increasing access to the internet can also result in an increased exploitation of women. Releasing personal information on websites has put some women's personal safety at risk. In 2010, Working to Halt Online Abuse stated that 73% of women were victimized through such sites. Types of victimization include cyber stalking, harassment, online pornography, and flaming. Sexual harassment in particular is a large barrier for women in the workplace. It appears in almost all industries, but is most notable in the following: business, trade, banking and finance, sales and marketing, hospitality, civil service, and education, lecturing and teaching According to the International Labour Organisation (ILO), sexual harassment is a clear form of gender discrimination based on sex, a manifestation of unequal power relations between men and women.
Furthermore, the UN Convention on the Elimination of All Forms of Discrimination Against Women (CEDAW) is urging for increased measures of protection for women against sexual harassment and violence in the workplace. 54% (272) had experienced some form of workplace sexual harassment. 79% of the victims are women; 21% were men.
Recent studies also show that women face more barriers in the workplace than do men. Gender-related barriers involve sexual harassment, unfair hiring practices, career progression, and unequal pay where women are paid less than men are for performing the same job. When taking the median earnings of men and women who worked full-time, year-round, government data from 2014 showed that women made $0.79 for every dollar a man earned.
The average earnings for working mothers came out to even less-$0.71 for every dollar a father made, according to a 2014 study conducted by the National Partnership for Women and Children. While much of the public discussion of the "wage gap" has focused around women getting equal pay for the same work as their male peers, many women struggle with what is called the "pregnancy penalty." The main problem is that it is difficult to measure, but some experts say that the possibility of having a baby can be enough for employers to push women back from their line. Therefore, women are put in a position where they need to make the decision of whether to maintain in the workforce or have children. This problem has sparked the debate over maternity leave in the United States.
However, despite the struggle for equal pay in the United States, the tech industry has made progress in helping to encourage equal pay across gender. In March 2016, tech career website Dice released a study of more than 16,000 tech professionals that found that when you compare equivalent education, experience and position, there is no pay gap-and hasn't been for the last six years. This new industry is paving a way for other companies to do the same. However, this industry also struggles to employ women in executive positions. This is partially due to the barrier of sexual harassment and pregnancy that was aforementioned.
Such barriers make it difficult for women to advance in their workplace or receive fair compensation for the work they provide.
Elucidating about the measurement whether women are getting empowered she further observed that women empowerment can be measured through the Gender Empowerment Measure (GEM), which shows women's participation in a given nation, both politically and economically. GEM is calculated by tracking "the share of seats in parliament held by women; of female legislators, senior officials and managers; and of female profession and technical workers; and the gender disparity in earned income, reflecting economic independence." It then ranks countries given this information. Other measures that take into account the importance of female participation and equality include: the Gender Parity Index and the Gender-related Development Index.
Participating in the interactive meet for explaining the importance of women, she commented that entire nations, businesses, communities and groups can benefit from the implementation of programs and policies that adopt the notion of women empowerment. Empowerment is one of the main procedural concerns when addressing human rights and development. The Human Development and Capabilities Approach, the Millennium Development Goals, and other credible approaches/goals point to empowerment and participation as a necessary step if a country is to overcome the obstacles associated with poverty and development.
Sharing her knowledge and experience regarding economic benefits reaching women, she opined that the most women across the globe rely on the informal work sector for an income. If women were empowered to do more and be more, the possibility for economic growth becomes apparent. Empowering women in developing countries is essential to reduce global poverty since women represent most of the world's poor population. Eliminating a significant part of a nation's work force on the sole basis of gender can have detrimental effects on the economy of that nation. In addition, female participation in counsels, groups, and businesses is seen to increase efficiency.
For a general idea on how an empowered woman can impact the economy, a study of Fortune 500 companies found that "those with more women board directors had significantly higher financial returns, including 53 per cent higher returns on equity, 42 per cent higher returns on sales and 67 per cent higher returns on invested capital (OECD, 2008)." This study shows the impact women can have on the overall economic benefits of a company. If implemented on a global scale, the inclusion of women in the formal workforce (like a Fortune 500 company) can increase the economic output of a nation. Therefore, women can also help businesses grow and economies prosper if they have, and if they are able to use, the right knowledge and skills in their employment.
Dr. Tanuja Trivedi, in her capacity as the Convener of the World Women's Empowerment Summit 2017 invited the Vice Chancellors of all Universities, Ambassadors and High Commissioners of all countries, Principals of Colleges and Schools to participate in this Summit by also nominating experts who have contributed in the respective areas of women's empowerment, for getting felicitated in the inaugural and in the valedictory sessions at 9.30 am and 2 pm respectively on 11th July 2017 at India International Centre, 40 Lodi Estate, New Delhi.
She also encouraged the Central and the State Government Ministries and Departments besides all the educational outfit in the country to contact her through email : [email protected] or another email : [email protected]
She also advised the aspiring delegates to contact her by writing letters by post to the Director, Women's Agency for Generating Employment (WAGE), A 42-43, Paryavaran Complex, South of Saket, New Delhi-110030.
Finally, she displayed the titles of the World Encyclopaedia of Women's Development running into 50 Volumes as given below :
world encyclopaedia of women's development
Volumewise Details
Volume 1 Women Today
Volume 2 Feminist Theology
Volume 3 Feminine Psychology
Volume 4 History of Feminism
Volume 5 Feminist Theories
Volume 6 Introduction to Women's Studies
Volume 7 Women : Past and Present
Volume 8 Status of Women
Volume 9 Women's Education
Volume 10 Crime Against Women
Volume 11 Violence Against Women
Volume 12 Women : Family, Marriage and Social Operation
Volume 13 Women's Development
Volume 14 Women : Gendering Work, Feminism and Postmodernism
Volume 15 Women's Welfare
Volume 16 Women's Health
Volume 17 Women : Fertility, Contraception and Family Planning
Volume 18 Women's Issues
Volume 19 Policies, Programmes and Commission on Women
Volume 20 Women's Challenges
Volume 21 Contemporary Women's Studies
Volume 22 Women's Empowerment
Volume 23 Women and Entrepreneurship
Volume 24 Women in Politics
Volume 25 Equitable Development for Women
Volume 26 Women in North East India
Volume 27 Gender Sensitisation
Volume 28 Economic Development of Women
Volume 29 Political Socialisation of Women
Volume 30 Indian Women Writing in English
Volume 31 Women and Religion
Volume 32 Exploitation of Women
Volume 33 Women Rights and Duties
Volume 34 Women's Movements in India
Volume 35 Women's Equality and Development
Volume 36 Women and Law
Volume 37 Women and Employment
Volume 38 Women and Social Change
Volume 39 Working Women
Volume 40 Future of Women
Volume 41 Women and Rural Development
Volume 42 Domestic Women Workers
Volume 43 Indian Women and Globalisation
Volume 44 Tribal Women and Society
Volume 45 Women in India
Volume 46 Substance Use Among Women
Volume 47 Women and Advertising
Volume 48 Women and Agriculture
Volume 49 Feminist Economics
Volume 50 Ecofeminism
Price : For the entire Set : Rs. 99,500 only.
The payment of Rupees Ninety Five Thousand Five Hundred only may kindly be made in the name of "Women's Agency for Generating Employment" payable at New Delhi by cheque / draft at the earliest and be sent by Speed Post. Alternatively this amount of Rs. 99,500 may be transferred in our Bank Account having the following details :
Name of the Bank Account : Women's Agency for Generating Employment
Name of the Bank : Indian Bank, Saket Branch, New Delhi - 110017
Bank Account Number : 6491701398
IFC Code : IDIB000S097
Helpline : 011- 40543739, 011-41096948