Vishwa Hindu Vidyapeeth
Philosophy and Origins
Philosophy and Origins

The Vishwa Hindu Vidyapeeth was conceived an resolved to be established during the World Spiritual Parliament special session convened on 20th April 1996 on the auspicious occasion of Akshaya Tritiya and concluded on the Earth Day on 22nd April 1996. Subsequently the Vishwa Hindu Vidyapeeth was formally inaugurated by the Prime Minister of India Shri Atal Bihari Vajpayee at his residence on 26th May 1996.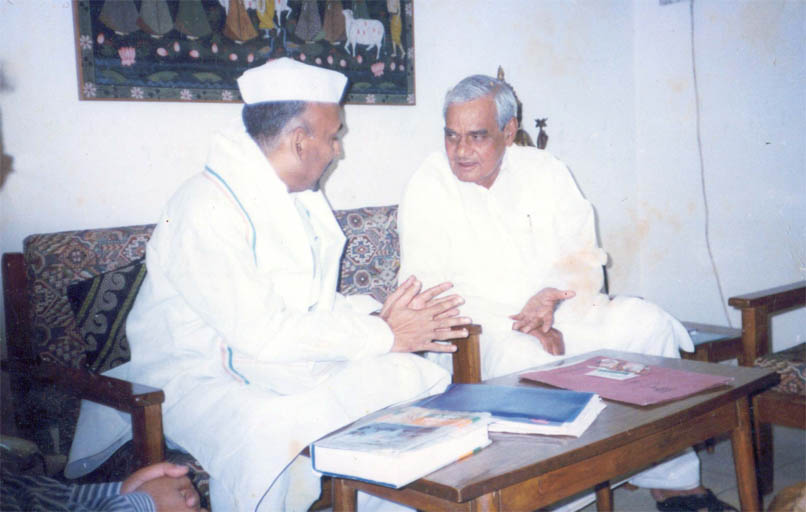 Hon'ble Prime Minister of India Shri Atal Bihari Vajpayee
discussing the objectives of Vishwa Hindu Vidyapeeth
with Dr. Priya Ranjan Trivedi on 26th May 1996 at New Delhi.
The idea behind the establishment of Vishwa Hindu Vidyapeeth has been to promote the philosophy of Hinduism (the oldest religion of the world) which is not only a religion but a way of life.

The Vishwa Hindu Vidyapeeth has designed a 25 years masterplan paradigm (1996-2021) and accordingly there are plans to develop the campuses of Vishwa Hindu Vidyapeeth in all the States and Union Territories of India with the help of separate legislations of the State Legislatures.

The Vishwa Hindu Vidyapeeth has also decided to invite proposals from foreign countries for establishing its branch campuses in those countries with a view to educating the local citizenry regarding the eastern philosophies for cleaning and greening of mind.
Those interested in the proposals mentioned above may contact through email :
[email protected]